"Ditch Witch" at work in Blackburn Hamlet.
The typical lifespan of a primary underground cable is about 30 years, and the infrastructure in one of Ottawa's east-end neighbourhoods is now nearing its end-of-life.
To stay ahead of the aging curve, Hydro Ottawa regularly inspects, maintains and replaces old equipment within the community. Over the last few months, crews have been in the Blackburn Hamlet area doing exactly this.
However, it's not just any boreing job.
Typically, crews use open cut excavation for underground cable replacement and installation jobs. This method involves excavating an open trench where the duct work gets laid, then concrete is poured under hard surfaces such as roadways, sidewalks or in areas where additional protection is required.
But for this job, crews are using a directional bore machine for the drilling. This nifty piece of equipment allows workers to quickly and neatly drill underneath driveways, walkways and landscaping.
There are many factors to be considered when deciding which method to be used, including soil conditions, accessibility for equipment, clearance to existing utilities, location of plant (like yards, roadways, sidewalks), temperature (ideal conditions for a bore machine is +5°C) and cost. But open cut excavation is more destructive to the surroundings and generally involves costly reinstatement.
Hydro Ottawa's goal is to improve the safe, dependable, electricity service in the area. By planning ahead, we can ensure that electricity continues to liven up our community.
With new and exciting infrastructure renewal projects on the way, make sure to follow us on Twitter and Facebook for photos and updates of upcoming projects.
---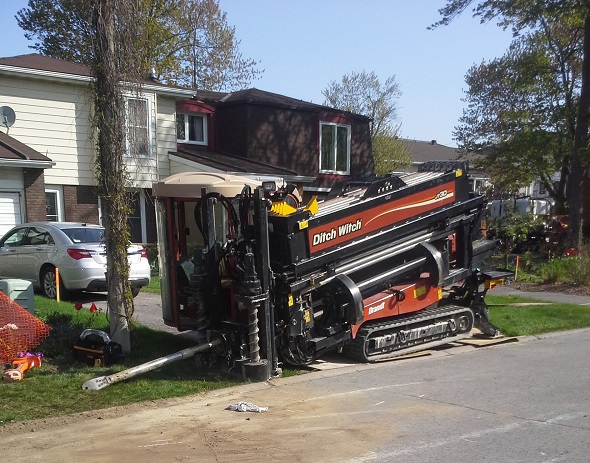 A directional bore machine, the Ditch Witch, was used for underground installation.