Hydro Ottawa sponsors an informative and dynamic electrical safety and conservation education program that teaches elementary school children how to use electricity safely and wisely.
Trained Electricity Safety and Conservation specialists offer two age-appropriate presentations. "Wires", the safety puppet, delivers safety and conservation messages to children from JK to grade 4. Children in grades 5 through 8 are offered a more detailed presentation that uses a variety of teaching aids including an electrified display of a miniature village.
At the end of the presentation, each student receives an engaging activity handout that they can take home and share with their family. Students are also encouraged to visit our Conservation page where they can find fun and educational conservation games.
Since 2001, more than 2,000 presentations in 195 elementary schools across the Ottawa community have been delivered to over 196,000 students. These presentations are offered free of charge to elementary schools in Hydro Ottawa's service territory on a four-year rotational cycle and are available in both English and French.
This is a proactive program where we contact schools following the four year schedule. This ensures that the program, reaches the largest number of children on a regular basis.
If you are a teacher and would like more information, please contact us by email or by telephone at 613 738-5499 ext. 523.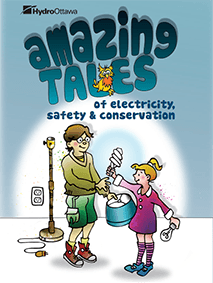 Download Activity Handouts