On the road to a greener future

At Hydro Ottawa, we believe it's our responsibility to help build a vibrant and sustainable capital. That extends to our own operations and our impact on the environment and the communities in which we live and work. We are fiercely focused on the health and safety of our employees, our customers and our city. That means making decisions that prioritize the environment as a major factor in how we define success.
As part of Hydro Ottawa's strategic focus on corporate citizenship, we are making important contributions to environmental sustainability by:
Reducing our own impact on the environment and improving our environmental performance through our comprehensive Environmental Sustainability Roadmap;
Actively promoting and educating our customers and community about electricity conservation, and by introducing and implementing programs to reduce electricity consumption; and,
Being the largest municipally-owned producer of green power in the province, we produce enough renewable electricity to power 107,000 homes through our hydroelectric, landfill-to-gas and solar installations.
With our commitment to environmental sustainability in all aspects of our business, Hydro Ottawa has been selected as one of Canada's Greenest Employers nine times.
---
Image

Sustainable Electricity Company™
On November 24, 2021 we were recognized as a Sustainable Electricity Company™ by the Canadian Electricity Association (CEA), in recognition of our commitment to responsible environmental, social and economic practices, and to the principles of sustainable development.
Visit the CEA website
ENVIRONMENTAL SUSTAINABILITY ROADMAP
First introduced in 2010, the Environmental Sustainability Roadmap was developed to help us reduce the impact our operations had on the environment, and improve our environmental performance.
Hydro Ottawa invests in producing clean, renewable energy, but our company's commitment to environmental sustainability goes far beyond our impressive generation operations. Hydro Ottawa's comprehensive sustainability roadmap engages all parts of the business in protecting the environment – from its highly successful waste diversion programs to water conservation practices at its facilities, to its commitment to sourcing materials locally. Through partnerships with the City of Ottawa on streetlight conversions and solar installations, to its grass-roots programs to engage youth, Hydro Ottawa also helps the community consume less energy and use it wisely.
Thanks to our whole-of-company business approach to the many sustainability initiatives underway across the organization, we have maintained a certified International ISO 14001 environmental management system since 2004, and are well on our way to achieving other key objectives, which include:
Achieving the Canadian Electricity Association (CEA) Sustainable Electricity Company™ designation in 2021;
Officially received ISO 55001:2014 certification in 2020 for our asset management and management systems; recognizing our commitment to meeting our operational, environmental and financial goals to deliver safe, low-cost, clean, reliable power and innovative energy infrastructure and services to our customers and our community; 
Establishing and communicating broadly, new and renewed environmental sustainability metrics that are linked to employee-related activities; and
Continuing and enhancing our involvement with Envirocentre/Carbon 613, including establishing and committing to a 10 year GHG reduction target.
Hydro Ottawa's Environmental Sustainability Roadmap was based on a comprehensive analysis of our impacts on water, land and air, and outlined specific priority areas to maximize the impact of our efforts:
PRIORITY AREA #1:
CARBON FOOTPRINT REDUCTION
 
#1
We are Ontario's largest municipally-owned producer of green power with enough installed generation capacity to power 107,000 homes
Fleet
We continue to make our vehicle fleet greener, and reduce operating costs through lower fuel consumption.
40 %
Fleet vehicles with environmental benefits like flex-fuel, battery and hybrid technology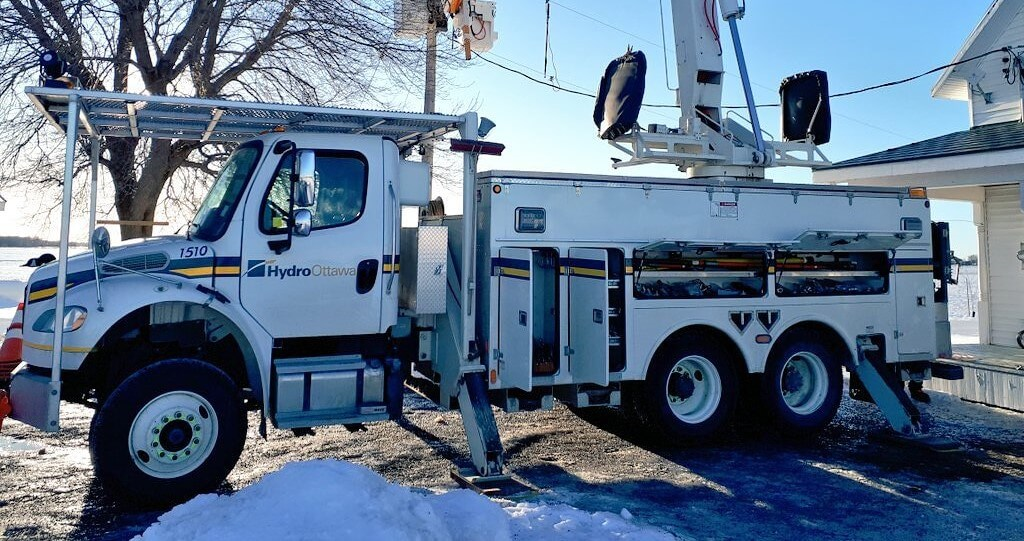 ---
Facilities
In 2019, we opened two new campuses in the east and south ends of Ottawa. Both campuses incorporate the production of on-site renewable energy, the preservation of natural resources, and a significant reduction in waste and greenhouse gases.
1.6 million
Litres of water saved per year thanks to rainwater harvesting and advanced filtration system at new main office
LEED Gold Standard
New campuses have been designed and constructed with an aim to achieve LEED Gold certification standards

---
Technology Infrastructure
Hydro Ottawa has made significant investments in technology systems to enhance the company's effectiveness. These include customer information and billing systems, advanced metering, and information and operational technologies such as geographic information systems, system control, outage management, and mobile workforce management systems.
We developed a comprehensive strategy to revolutionize Hydro Ottawa's technology infrastructure - taking a more decentralized, customer-centric, technologically advanced and environmentally sustainable approach.
52
Substations (out of 91) have building automation systems to control lighting and heating
50%
Customers have converted to paperless billing, making Hydro Ottawa the distribution utility with the highest e-billing participation rate in the province
4%
Reduction in GHG emissions per hour worked in 2019

PRIORITY AREA 2:
GREENING PROCUREMENT AND THE SUPPLY CHAIN
Buying greener products and services presents another opportunity to reduce the environmental impact of Hydro Ottawa's operations.
34%
Goods and services purchased within 100km radius of the National Capital Region

PRIORITY AREA 3:
BUILDING A CULTURE OF ENVIRONMENTAL SUSTAINABILITY
Our aim is to be the trusted energy advisor for our customers – large and small – and our community. As the energy needs and options of our customers and our community evolve, and as signature projects and developments proceed, Hydro Ottawa will play a leading role in helping our City to transition to a smart energy future.
Our internal conservation efforts have been integrated with our extensive conservation efforts in the community, encouraging our employees to conserve, reduce, re-use, and recycle in the same way that we encourage our customers.
280,000
Elementary-aged students received free in-school electricity safety and conservation programs since 2001
90%
Diversion rate of all solid and liquid non-hazardous waste from landfill
50%
Reduction in annual paper usage by streamlining printers and introducing power management settings
9
The number of times Hydro Ottawa has been recognized as one of Canada's Greenest Employers in the last decade