In one of the biggest storms the region has seen in recent years, more than 72,000 customers were without power at the height of the storm.
Hydro Ottawa crews were ready and waiting when the freezing rain began Sunday, and crews quickly went to work and continued to work around the clock to restore power to Ottawa residents. The Communications team was also ready, monitoring social media activity and providing vital updates and information to customers and stakeholders during the outage. Throughout Monday, the team monitored social media, sharing updates and information with customers while sending out press releases, responding to over 20 media inquiries and addressing issues with the outage line and map. This communication resulted in a sizeable increase in app downloads and activations as customers turned to the mobile outage map to get up to the minute information. Throughout the disruption all coverage on both social media and through traditional media remained positive or neutral, with no negative coverage resulting from the outage. Residents appreciated the efforts by both the crews and the communications team in providing them with updates, including producing 6 videos showing the extent of damage and the work being conducted by crews.
Despite more than 200 separate outages and significant damage to electrical equipment, the crews were able to restore power to the majority of customers by Tuesday evening. While Hydro Ottawa continued to work on Wednesday to address small pockets and individual outages, the majority of Ottawa's residents are happy to have the lights – and heat – back on.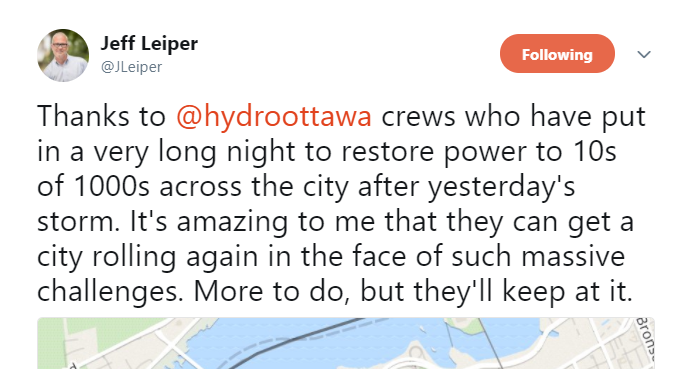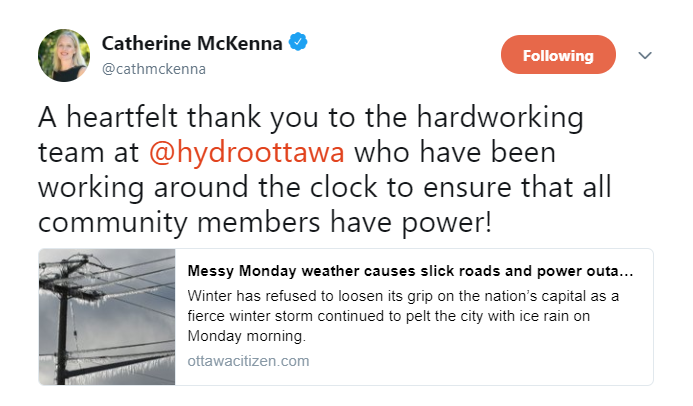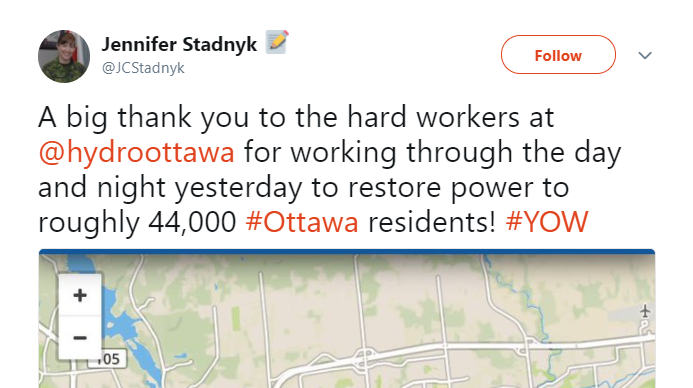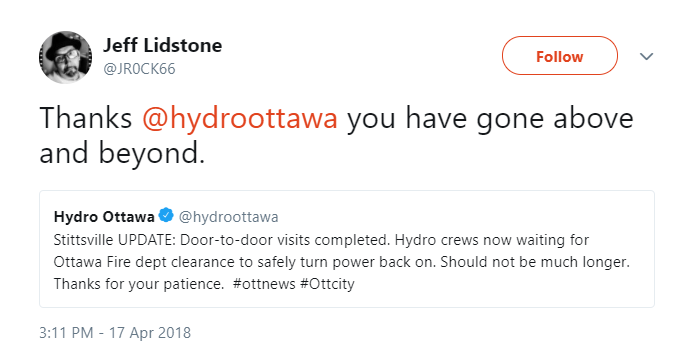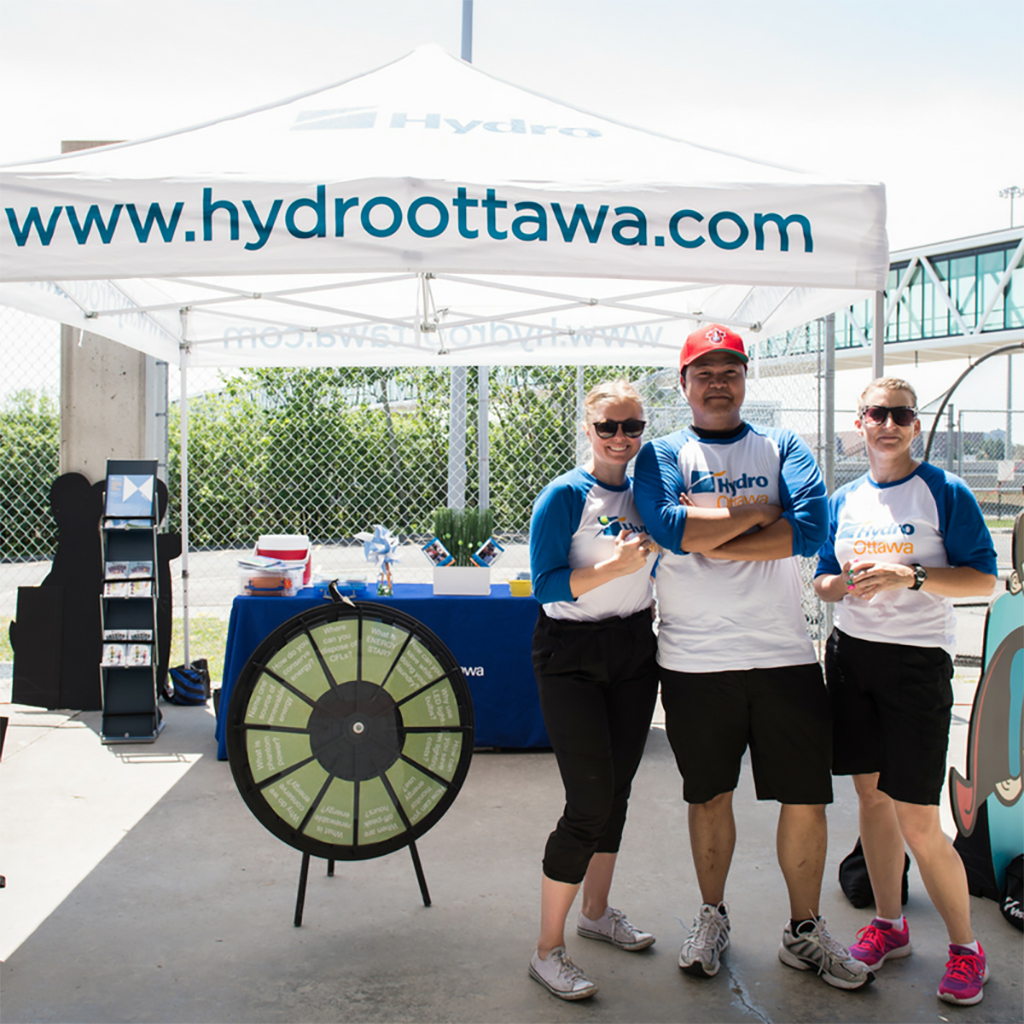 Each year our Conservation Team attends hundreds of community events to spread the word on saving energy. Armed with helpful tips to save energy, the team is now booking their summer calendar.
If you would like the team to attend one of your events, send us an email at conservationteam@hydroottawa.com. Be sure to act fast, the calendar is filling up fast!
For more information on upcoming events and locations, check out the event listings.
Hydro Ottawa will be promoting energy efficiency at several Earth Day events, including River Ward's 3rd Annual Earth Day Celebration and the Glebe Community Association's Old Home Earth Day Event on Saturday, April 21st.
Want to spread the Earth Day message in your ward? Here are some top tips to share with your constituents: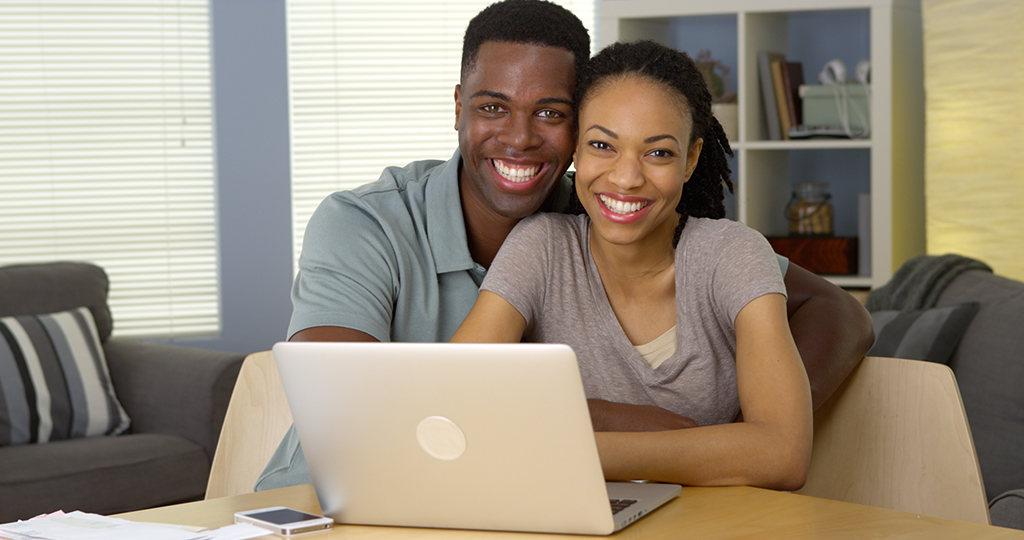 Equalized bills don't rise or fall suddenly – even if electricity usage does.
Hydro Ottawa's equal monthly payment plan allows customers to spread their annual electricity costs evenly throughout the year for easier budgeting and a more predictable monthly bill. With this payment plan, the same amount is automatically withdrawn from the customer's bank account on the due date each month. No need to visit a bank or set a reminder to go online to pay!
This budget-friendly option has the same benefits as pre-authorized payment, but with the added bonus of knowing exactly what amount is coming out each month.
For more information or to sign up, customers can visit hydroottawa.com/account or call 613-738-6400.
Ottawa is now home to high end, energy efficient, luxury suite apartments – a first of its kind in Canada.
When most people think about retrofitting a building, they think about upgrading a few lights to LED and replacing some components of their heating and cooling system. The CLV Group took a much more aggressive approach, completely overhauling 207 Bell St. and by partnering with Hydro Ottawa, ensured the retrofit was as energy efficient as possible.
The building features a multitude of amenities including a state-of-the-art gym, puppy spa, as well as multiple lounges. The building was designed to appeal to an environmentally conscious clientele.
LIV apartments are giving tenants the resources to help manage their own energy consumption; empowering tenants by providing tools such as Smart Thermostat in-suite controls, LED lighting, Energy dashboard monitoring and ENERGY STAR appliances. This will help them to make on going environmental decisions and reduce their environmental footprint.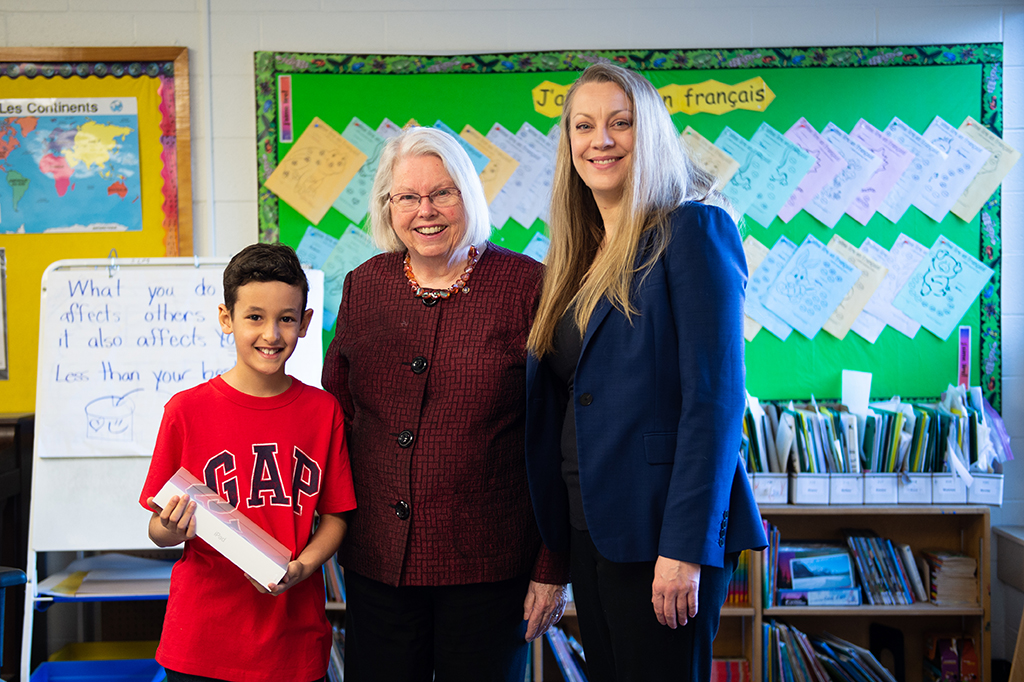 Each year Hydro Ottawa promotes electricity safety and conservation in hundreds of local elementary schools. Algasem Zabarah, a grade 3 student at Stephen Leacock School in Kanata North put his safety knowledge to the test, and was the lucky winner of an Apple iPad for our Whiz Quiz contest!
From January through March, over 1,000 students took the Whiz Quiz, which tests their knowledge of electricity and safety after they have received an in-school presentation.
Communicating the importance of electrical safety and conservation is critical, especially amongst youth. Our educational programming provides students with information about how electricity works, conservation and safety via in-school presentations.