Hydro Ottawa Holding Inc. (Hydro Ottawa) is wholly-owned by the City of Ottawa and governed by an independent Board of Directors appointed by its shareholder. The company's core businesses are electricity distribution, renewable energy generation and energy conservation and management services.
Hydro Ottawa Limited
is a regulated electricity distribution company operating in the City of Ottawa and the Village of Casselman;
has 331,777 total customers representing 303,571 residential, 24,888 small commercial and 3,305 commercial users and 13 large users;
is the largest local distribution company in eastern Ontario and the third-largest municipally-owned LDC in the province;
has a 1,116 square kilometre service area;
delivered 7,639 gigawatt hours of electricity in 2016, representing 5.6 percent of the electricity distributed province wide (135,092 gigawatt hours);
had a maximum load of 1,391 MW with an average of 1,178 MW in 2016;
has a service territory that includes 744 microFIT and 97 FIT generators;
delivered electricity service to more than 58,000 streetlights;
will fund capital investments of more than half a billion dollars over the course of 2016 to 2020; and
accounts for approximately 88 percent of the Corporation's capital assets and 89 percent of revenues.
Energy Ottawa Inc.
is a provider of commercial energy and infrastructure management services;
is the largest Ontario-based municipally-owned producer of green power;
operates 16 run-of-the-river hydroelectric facilities, including six stations in Ottawa's downtown core;
has a hydroelectric generation capacity of 84.6 megawatts at Chaudière Falls;
has landfill gas-to-energy generation capacity of 10.2 megawatts through joint ventures at the Trail Road Landfill in Ottawa and Lafleche Landfill in Moose Creek, Ontario;
has 14 solar installations across the City of Ottawa;
owns ten hydroelectric stations located in Eastern Ontario and nearby New York State that have a total combined output of 31 megawatts; and
has a total generation capacity of more than 128 megawatts annually, which is enough to power 107,000 homes.
Employees
Coverage Map
Hydro Ottawa transports power from the provincial electricity grid and distributes it across its service territory. The distribution network includes:
88 Hydro Ottawa and 5 Hydro One distribution stations;
170 station class transformers;
2,963 kilometres of underground cable;
2,732 kilometres of overhead lines;
45,414 distribution transformers;
49,247 hydro poles.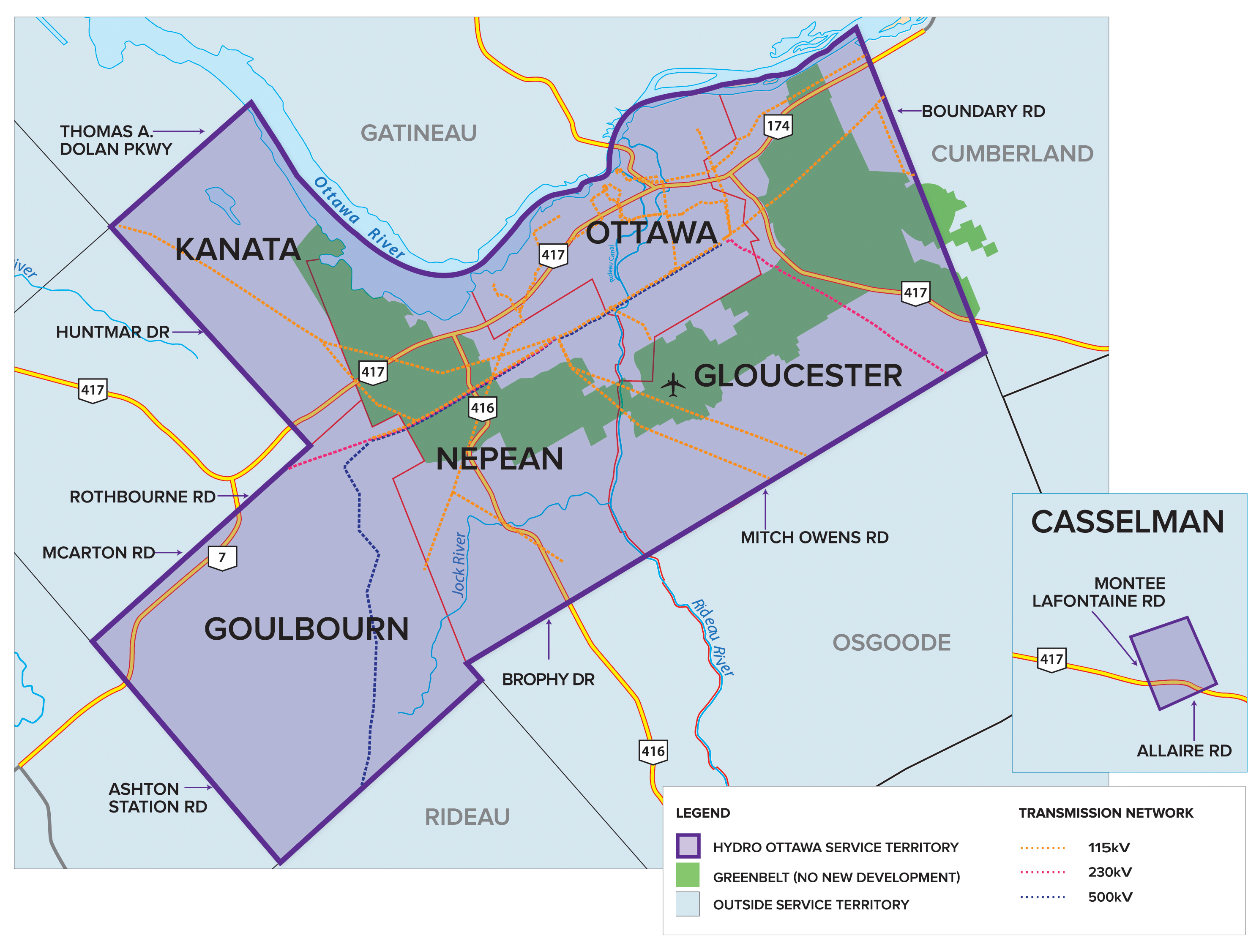 Statistics as of February 28, 2018