When your lights go out, here are the steps we take to detect and restore the power as safely and as quickly as possible. While power restoration will depend on the type and scope of the outage, below is the general process our crews follow to get the power back on.
There are two ways we find out about a power outage at Hydro Ottawa.
First, we rely on technology. 
Our Supervisory Control and Data Acquisition computer system (SCADA), is in constant communication with monitoring and control devices installed throughout the city within the power distribution network and in our substations. SCADA will instantaneously alert our control room operators when the power goes out or when other problems occur with the electricity system.
However, SCADA's remote monitoring and control devices are engineered to oversee and protect larger sections of the power grid. That's why our operators also rely on information from customers to confirm smaller outages and dispatch a crew to investigate. 
Customers can report outages via our 24/7 outage line at 613-738-0188, or online using MyAccount or Hydro Ottawa's mobile app.
Once we know the general location of the outage, we will dispatch the nearest crew to the area. Our field crews are in constant contact with our control room to share information, ensure the outage site is safe, and to coordinate activities to restore power. 
Upon arrival at the outage site, crews will first assess the safety of the area. If the exact cause of the outage is not known, they will investigate this. As there are a number of potential causes to a power outage, (such as car accidents, faulty underground cables, or a downed tree or pole), investigating the specific cause of a power outage can be challenging and time consuming – particularly in bad weather. 
Public and personal safety are the first priority of our crews. Falling trees and branches, windy or dark conditions, heavy fog, thunder and lightning or treacherous roads can delay our crews' restoration efforts. In situations like this, our crews need to prioritize their efforts where they can best assist customers while not risking lives. 
As crews are being dispatched, Hydro Ottawa broadly communicates the status and safety details of the outage to our customers, the broader public, the City of Ottawa, and the media in the following ways: 
Our 24/7 Outage Line (613-738-0188) will have a recorded message detailing  current outages as they become available. This information may include where the outage occurred, the number of customers affected, the status of repair crews and the estimated time it may take to restore power.
We update our Outage Web Map with information about outages affecting 10 or more customers within 200 metres of each other. Customers can quickly see the area of the outage, the number of customers affected, and can even zoom in to see the specific streets impacted.  
We share outage information on X @hydroottawa (formerly Twitter) during business hours and major power outages.
Once crews determine the cause of the outage, and the required repairs, they'll provide an estimated time of restoration (ETR) and we'll update the status of the outage on our Outage Map.
While we do our best to predict when power will be restored, estimated restoration times can change once crews fully investigate the extent of damage at the scene. For example, replacing a broken pole can take up to eight hours to complete.
When possible, we'll perform 'emergency switching', which involves temporarily moving customers on to another circuit to provide them power while we work on these more lengthy repairs.
Once repairs are complete, crews will conduct testing to make sure things are working, before restoring power. If your outage is no longer listed on our Outage Map, but you're still without power, you may have sustained damage to the electrical equipment outside your home. You should also check your circuit breaker or fuse box. If you don't find any tripped breakers, and/or other issues on your end, please call our 24/7 outage line at 613-738-0188.
When power outages are widespread because of a major storm, providing estimates is even more difficult. During major weather events, when we are dealing with hundreds of outages, power restoration is prioritized on a priority basis, similar to what the City of Ottawa and other municipalities use during snow removal: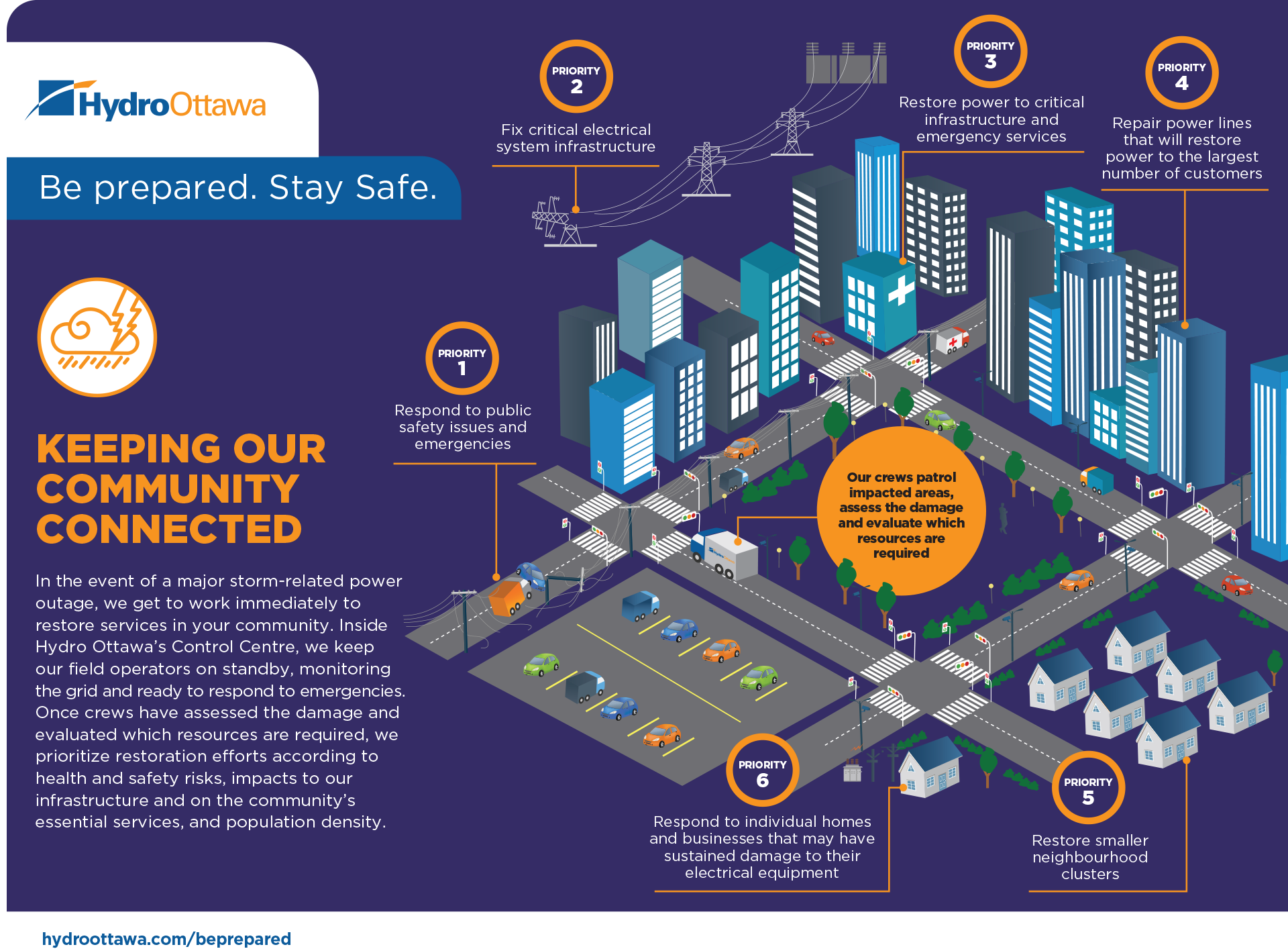 At all times, our number one priority is to ensure the safety of the public and our employees. To learn more about how we restore power, watch this video "Preparing for Power Outages".
Every storm and power outage presents an opportunity to learn and to build a stronger and more resilient electricity grid. Our team tracks all relevant data about storm outages and analyzes the event and our teams' efforts to restore power. Every storm is an opportunity to learn, and this information helps us to identify trends for planning and prioritizing upgrades to our electricity infrastructure. It also informs our maintenance and tree trimming programs. 
For more information and related topics, read our recently published blogs: