Looking for your bill? You can access it through your online account. If you don't have an online account, registration is easy – it takes just a few minutes!

This tool allows you to find detailed explanations quickly and easily for each section of your bill. Simply use your cursor to highlight a line item of interest and a box will appear providing you additional detail.

Hydro Ottawa offers many different options to allow you to make simple, on-time payments. Choose the method that's most convenient for you.

Register today and join the thousands of customers who are already enjoying the convenience of E-Billing!

With your monthly bill from Hydro Ottawa, we may include inserts that provide important safety information, tips for reducing your energy consumption, or news about saveONenergy incentives and other special promotions.

With the Equal Monthly Payment Plan (EMPP), you can even out your payments over time. Your monthly payment amount will be based on your projected annual electricity use and the price of electricity.
As a residential customer, only 22.5% of your hydro payment goes to Hydro Ottawa.
Hydro Ottawa is responsible for the safe, reliable delivery of electricity to more than 325,000 customers in the City of Ottawa and the village of Casselman. As a community company, Hydro Ottawa is committed to delivering value to its customers by providing reliable service at competitive rates.
Hydro Ottawa's delivery charge represents only a small portion of your bill. The delivery charge covers the costs of delivering electricity from generating stations across Ontario and then to your home or business. It includes the costs to build and maintain transmission and distribution lines, towers and poles and to operate provincial and local electricity systems.
We pass on the remaining charges, without mark-up, to the other companies responsible for generating electricity, transmitting it, and to regulators and the provincial government. A portion of these charges are fixed and do not change from month to month. The rest are variable and increase or decrease depending on the amount of electricity that you use. Please see the chart below for a break-down of these charges.*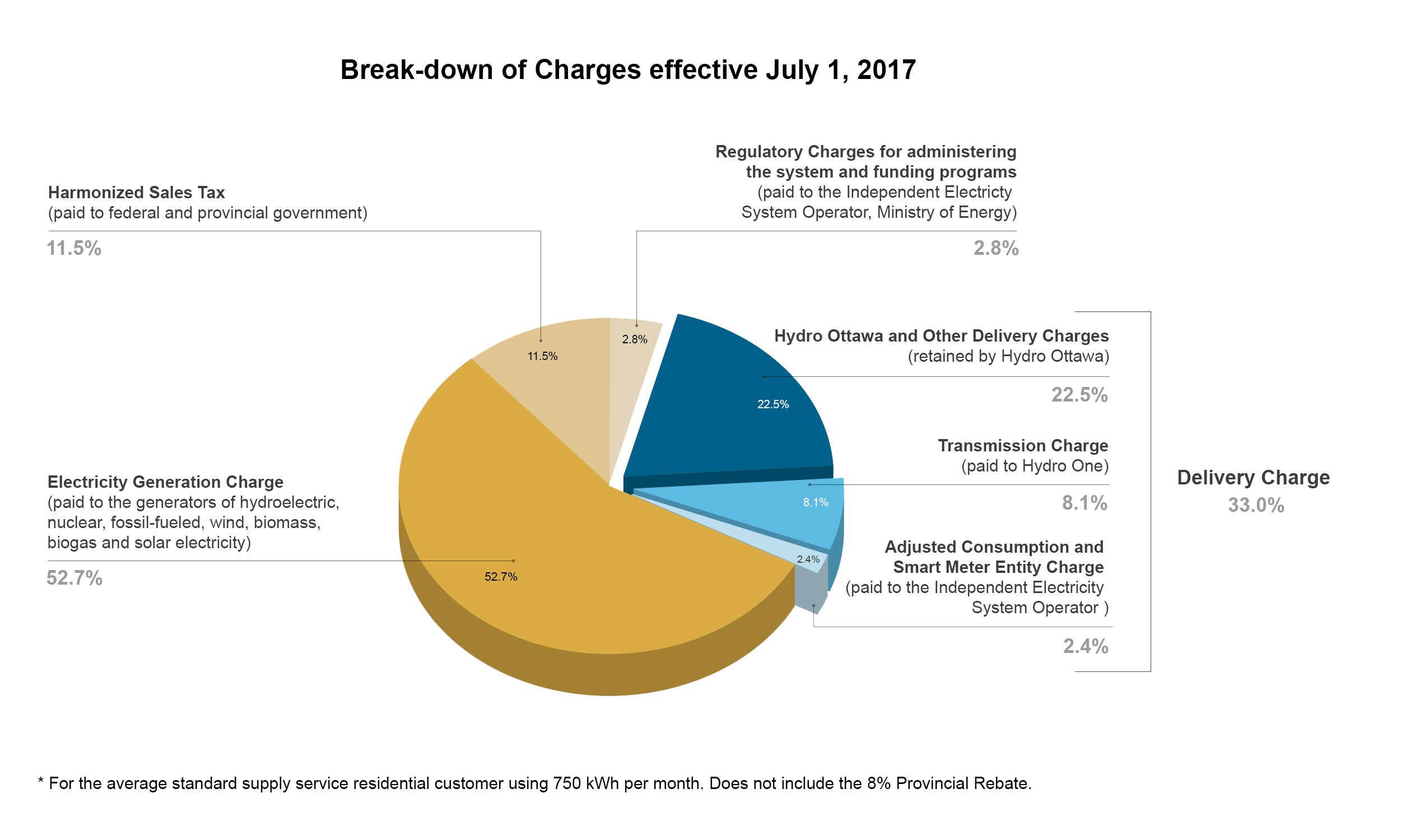 Ontario's system-wide electricity supply mix is evolving.*
Fostering a culture of conservation and developing renewable sources of energy are cornerstones of the provincial government's vision for Ontario's electricity future. This can be seen in the diversity and growing availability of alternate power sources coming online in Ontario's power grid. However, to meet the increasing demand for power in the future, it remains important to reduce our consumption now. Please do your part in promoting the adoption of clean energy sources. Visit our conservation section for some great tips and programs to save you energy.