BECOME AS SMART AS A FOX ABOUT ELECTRICITY
Electricity is an important part of our day-to-day lives. It keeps our phones charged, our refrigerators running, and our lights turned on. But it can also be very dangerous. Luckily there are simple rules to follow to keep you and your loved ones safe.
ELECTRICAL SAFETY KNOWLEDGE IS POWER
Do you know what to do in these situations?
Felix the Fox and Sam the Squirrel can teach you how to stay safe when you're around electricity.
Planning a project involving digging?
Climbing up a ladder?
Spotted a downed power line?
Reaching for something around a power line?
Curious about your pad-mounted transformer?
Is your vehicle in contact with wires?
6 SIMPLE WAYS TO STAY SAFE
Don't risk your safety!
Remember these six tips when dealing with electricity.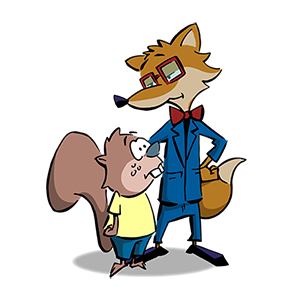 TAKE THE ELECTRICITY WHIZ QUIZ
Think you're as smart as a fox?
Test your electrical safety savvy with our Whiz Quiz and you could win a PRIZE!