Kanata North RETROFIT +
What is the Kanata North RETROFIT + Program?
The Kanata North RETROFIT + program offers 3x the regular Save on Energy retrofit incentives to help reduce summer peak power demand. Through this program, qualified customers can reduce up-front equipment upgrade costs and benefit from long-term savings. The program will offer $1,200/kW reduction for lighting retrofits and $2,400/kW for non-lighting retrofits. It also triples the Prescriptive incentives offered by the Save on Energy program.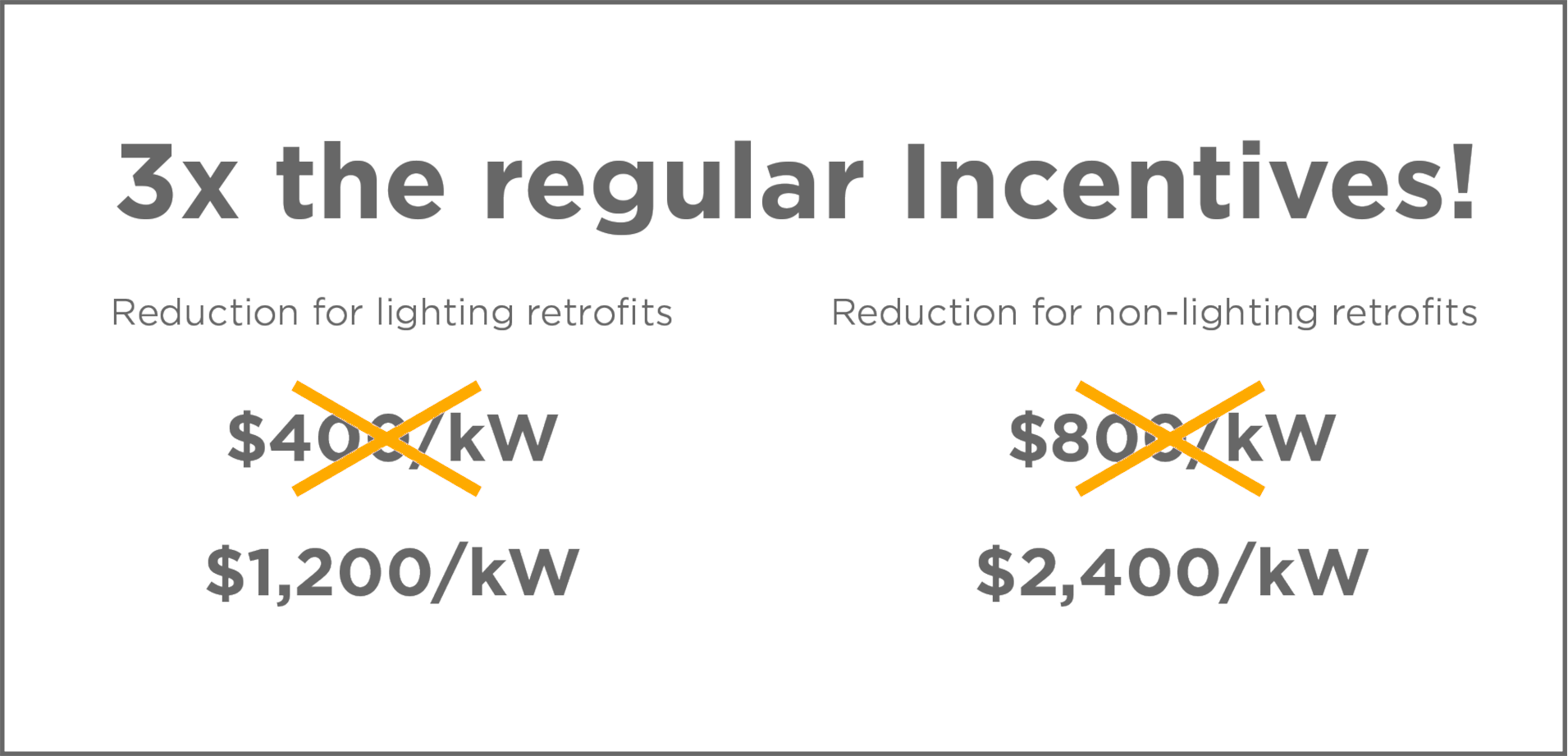 What types of retrofits are applicable?
Upgrade your lighting to LEDs. Retrofits include:
fluorescent tubes
metal halide
sodium
incandescent
halogen lights
Upgrade any of the following Non-lighting retrofits:
commercial refrigeration
air-conditioning
advanced building controls
speed-drives for motors and pumps
high efficiency chillers
data center cooling
voltage optimization
Who is eligible for the Kanata North RETROFIT + Program?
The program is exclusively available to owners or lessees* of existing buildings in Kanata North:
Commercial buildings
Industrial facilities
Institutional buildings
Multi-residential buildings or condominiums
Agricultural facilities
*Owner's consent or authorization required.
View Full Coverage Area
Can you help me find opportunities to make my building more energy efficient?
Hydro Ottawa will have an energy manager in Kanata North to support the RETROFIT + program along with support staff to help you with your applications.
To book an appointment with a Hydro Ottawa representative or if you have questions about the program, you can reach us at [email protected] or 613-738-5474.
What if I already submitted an application through the current Retrofit program through Save on Energy?
Contact us at [email protected]or 613-738-5474 before you cancel any current application. If you have already completed any of the items listed below on an existing Retrofit program, it is too late to transfer. 
entered into a binding contract
ordered material
started the work
if you have already submitted an application but have not completed any of the above-listed items, contact us at to resubmit under RETROFIT +
How will I know how much savings I'll achieve by installing the new equipment or lighting?
Contact our Energy Manager at [email protected] or 613-738-5474. We will calculate the savings once you've provided informacion on your facility and details on the existing and new equipment.
What is Hydro Ottawa's role in this? What kind of support will Hydro Ottawa be offering?
Hydro Ottawa has assembled an experienced team to support your projects. We'll have 2 full-time representatives in Kanata North to explain the program and help you find some retrofit opportunities in your building(s). In our office, we'll have 2 application support experts to help you with the program paperwork.
How long will the RETROFIT + program be in market?
Submissions will be accepted until Dec 31, 2020 or until the program is fully subscribed. Get your application in early so as not to miss out. Once pre-approved, projects and supporting documentation must be completed and submitted before Dec 31, 2021.
Why is the incentive only being offered in the Kanata North area?
With this program, Hydro Ottawa wants to encourage Kanata North commercial customers to undertake capital improvement projects that reduce summer peak load. The RETROFIT + program will be offered in Kanata North, for a limited time and by reducing the summer peak load in the designated area, customers will benefit from lower bills and reduced greenhouse gasses from energy savings. They will also be helping to ensure the reliability of the electricity distribution system.
More Questions or Ready to get Started?
Reach us at
[email protected]
or 613-738-5474.