No one wants to hear the words "You have cancer," much less over the phone during a March break trip with your three young children in the room, the youngest just 24 months old. 
Nonetheless, that's exactly the situation Gina Mertikas-Lavictoire found herself in nearly four years ago when she was diagnosed with an aggressive type of breast cancer at 34.
Gina's cancer journey started when she felt an unusual firmness in one of her breasts that didn't go away. Being young and with no family history of cancer, Gina didn't initially worry too much about it. Instead, she continued on with life and monitored her symptoms. When the firmness didn't go away, she went back to her doctor and ended up getting a biopsy, ultrasound and mammogram. "Never in a million years did I think it would be breast cancer," recalls Gina.
She's not alone. According to the Canadian Cancer Society, about 80 per cent of breast cancers are diagnosed with no family history and one in eight Canadian women will be diagnosed with breast cancer in her lifetime.
Image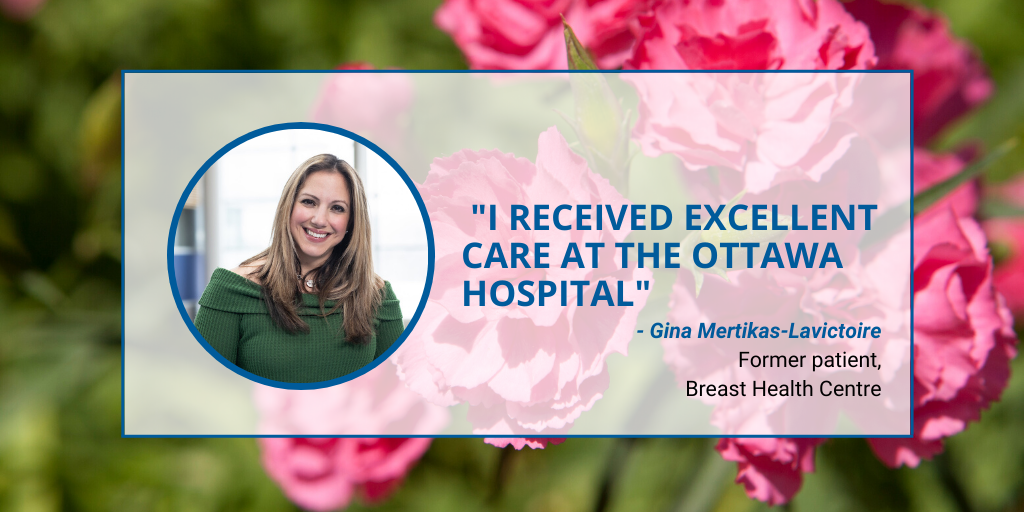 The instant she got the news, Gina made a mental choice not to let cancer take over her life. She vowed to keep a positive attitude, fight to get from treatment to cure, keep making memories with her loved ones, and not let the diagnosis define her. Jumping into survival mode, Gina asked her doctor "when can I get a mastectomy and how soon can I start treatment?" 
She began treatment at the hospital before the new centre opened, which meant she had to travel between the Civic and General campuses for her various appointments. Needless to say she was thrilled when the Rose Ages Breast Health Centre at The Ottawa Hospital opened in 2018 at the General Campus with all services consolidated in one facility, making it easier on the patient.
The comprehensive Centre provides expertise in breast imaging, diagnosis, risk assessment, surgical planning, and psychosocial support for breast patients across the Ottawa region. And there are consultation rooms large enough to fit entire families.
In 2021, there were: 
5,935 visits
1,320 new cases seen
5,505 total cases managed
1,087 treated with radiation
"I received excellent care at The Ottawa Hospital," Gina says. "When I received news that I would be able to watch my children grow up, I promptly asked how I could give back."
That's when Dr. Clemons, Gina's oncologist and clinical investigator at The Ottawa Hospital suggested donating to or participating in clinical trials to help improve care and quality of life for future patients.
"When you think the most common killer is now cancer," says Dr. Clemons, "and only three per cent of patients are involved in trials, it's quite shocking. Patients are desperate to help, not just for themselves but for their children. They want their children to have better treatments if this happens to them."
Gina decided to shine a light on breast cancer research at The Ottawa Hospital by selling "Calendars of Hope". She enlisted the help of her mom, renowned Canadian artist Katerina Mertikas, whose art is featured each month in the calendar. Since 2018, these calendars have raised more than $35,000 for research.
For Gina, giving back isn't just about fundraising, it's also being an active participant in current clinical trials. "I believe this is how we will find the cure for cancer," she says, "so we really need to continue to support this avenue, to support the next generation of cancer patients."
Unlike most cancer clinical trials, which are focused on evaluating experimental treatments in a very narrow patient population, the Rethinking Clinical Trials or REaCT trials at The Ottawa Hospital compares standard approved treatments in a real-world setting with a broad range of patients. 
REaCT is the largest pragmatic cancer clinical trials program in Canada, with more than 3,000 patients participating in 16 clinical trials at 16 centres in Canada.
Gina participated in a study focused on a drug called filgrastim, which boosts the production of infection-fighting white blood cells. Researchers discovered that five doses of filgrastim are just as good as seven to 10 doses in terms of preventing infections. And when they looked at treatment-related hospitalizations, they found that five doses are better. "This study is already changing practice around the world," says Dr. Clemons. "It is making our patients healthier and giving them more time with loved ones by reducing unnecessary hospital visits. It is also saving our healthcare system millions of dollars every year."
The Breast Health Centre is transforming the future of healthcare thanks to the unfailing generosity of the community. Not only do they take a patient-centred approach to treatment and care in a world-class facility, they also conduct leading-edge research that makes cancer treatments better and provides hope to countless patients and their families locally and around the world. 
At Hydro Ottawa, we're honoured to be able to raise funds and awareness for the breast cancer cause by supporting The Ottawa Hospital President's Breakfast event, and by pledging to raise  $1 million over a five-year period to fully equip an entire mammography room at the Centre. Money is raised through the annual Hydro Ottawa Charity Golf Tournament and is made possible thanks to the participation of employees, supporters and industry partners. To learn more about our support of the Rose Ages Breast Health Centre at The Ottawa Hospital, visit our Community Giving web page.