About this project
Orléans is a vibrant and growing neighbourhood, and as such, Hydro Ottawa needs to grow with it. 
While we understand that construction activities and power outages can be frustrating and disruptive, ensuring every neighbourhood in Ottawa has access to a clean, safe and reliable supply of electricity is a responsibility we take seriously and continuously plan for. 
Our plan over the next few years is to continue to invest in the Orléans community by renewing or replacing aging infrastructure, improving our distribution system's resiliency and reliability, and reducing the impacts of unplanned power outages in the future. 
Construction overview
Hydro Ottawa will be replacing underground cables and upgrading equipment to improve reliability issues in the Bilberry, Sunview, Fortune, des Épinettes, Viseneau and
Beauséjour neighbourhoods in Orléans. Overall, work will include:

Short term (2022-2024) 
The replacement of two feeder breakers

The replacement of end of life cable

The installation of two additional feeders and system reconfiguration 
During this period, work is anticipated to take place in the Sunview, Fortune and Bilberry neighbourhoods.

Long term (2025+) 
The continuation of cable replacement in the Bilberry neighborhood as well as des Épinettes, Beauséjour and Viseneau areas

Hydro One Networks Inc. (Hydro One) transformer replacement work at their Bilberry station, which supplies electricity to customers in that area.
Image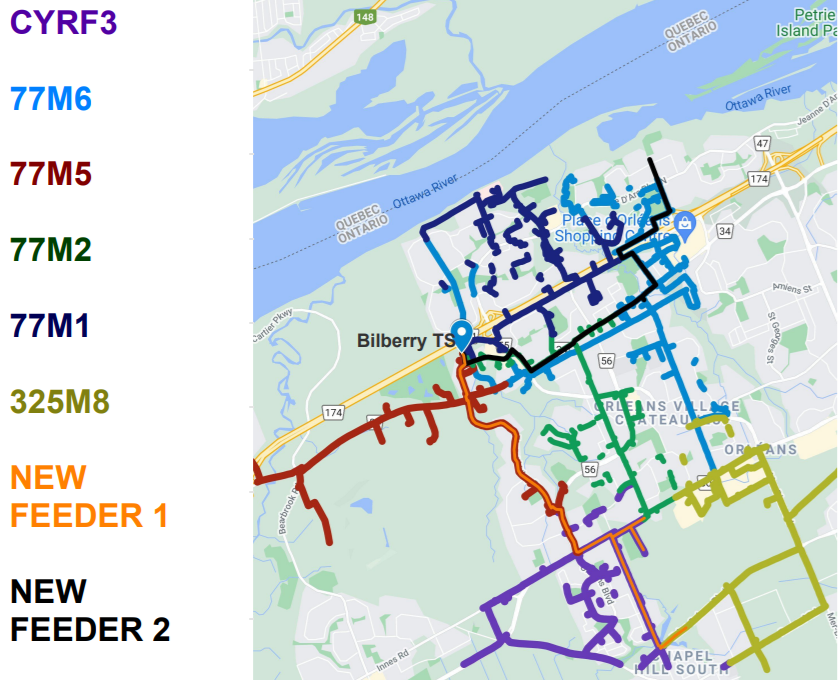 Throughout this project, we will continue to work directly with the City of Ottawa, community stakeholders, customers and businesses to identify and minimize disruptions. We will also host Open Houses for planned work in specific parts of Orléans in the future to ensure our customers are aware of the work being done in their neighbourhood.
Orléans virtual information session
As part of our commitment to keeping you informed about projects that may impact you or your business, we hosted an initial virtual information session on November 30 for the Orléans community to learn more about our upcoming work, ask questions and provide input.
A video recording of this session is available below.